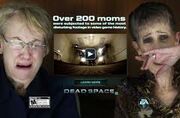 In January of 2011 EA launched yourmomhatesthis.com. a marketing campaign focusing on the emotional response of presumably middle age mothers watching footage of Dead Space 2. The women's reaction of shock and disgust when watching the footage attempts to reach the target demographic with humor and the rebellious concept of knowing your mother would disapprove of you playing Dead Space 2.
Ad blocker interference detected!
Wikia is a free-to-use site that makes money from advertising. We have a modified experience for viewers using ad blockers

Wikia is not accessible if you've made further modifications. Remove the custom ad blocker rule(s) and the page will load as expected.