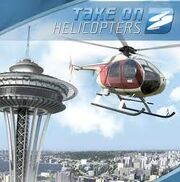 Take On Helicopters is a civilian helicopter simulation from Bohemia Interactive.
In campaign the player takes the role of a civilian helicopter pilot named Harry Larkin whose aviation business is struggling through hard times.
The game features large detailed environments based on real-world North American and South Asian terrain and highly detailed helicopter models in this open-world sandbox flight game. In addition, the game also features a level and mission editor.
Ad blocker interference detected!
Wikia is a free-to-use site that makes money from advertising. We have a modified experience for viewers using ad blockers

Wikia is not accessible if you've made further modifications. Remove the custom ad blocker rule(s) and the page will load as expected.