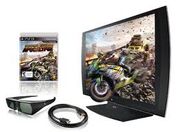 Turn any gaming space into a 3D entertainment power suite by connecting to your PS3™ system, cable TV box, and PC. This 24" HD 3D display is enhanced with SimulView™ technology, delivering individual full HD screen action in two-player mode. It also has 3D glasses for it.
Motorstorm Apocolypse
Killzone 3
Resistance 3
Ad blocker interference detected!
Wikia is a free-to-use site that makes money from advertising. We have a modified experience for viewers using ad blockers

Wikia is not accessible if you've made further modifications. Remove the custom ad blocker rule(s) and the page will load as expected.