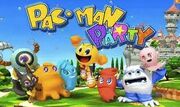 Wakka. Wakka. Wakka. The "Pac" is back to celebrate his 30th birthday with Pac-Man Party. The game combines traditional franchise elements with multiplayer sensibilities to bring a dynamic party game filled with zany mini-games and challenges. Utilizing the Wii Remote, the game's easy to pick-up-and-play controls will have players using their skills and reflexes to compete against one another as they move about several unique virtual game boards. Adding a bit of retro flavor, PAC-MAN Party will also feature a Classic mode where players can kick it like it was the 1980's and experience the original arcade versions of Pac-Man, Galaga and Dig-Dug.
Pac-Man Party 3D
Edit
Pac-Man Party 3D brings together family and friends for dozens of mini-games for gamers to play with or against each other. Perfect for the whole family, Pac-Man Party 3D features a variety of control styles that utilize the system's buttons, touchscreen, microphone, and accelerometer. With support for download play, friends can join in on the fun using just one cartridge shared across Nintendo 3DS systems.
A iOS version of the game called Pac-Match Party was released. It was also released in HD again for the portable iOS consoles.
Ad blocker interference detected!
Wikia is a free-to-use site that makes money from advertising. We have a modified experience for viewers using ad blockers

Wikia is not accessible if you've made further modifications. Remove the custom ad blocker rule(s) and the page will load as expected.