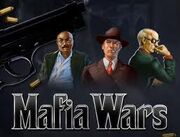 In Mafia Wars the gamers play as gangsters building their own mafia. The players fight other players online and complete tasks to gain rewards and strength in the game. The game is a freemuim meaning it is free to play normally but players have the option of purchasing premium content. As of July 2011, the game had 8 million monthly active users.
Mafia Wars 2
Edit
Become infamous in this sequel to the renown gangster game Mafia Wars. Use any means necessary to rise up, get revenge, and build your criminal empire in the seedy underbelly of Las Vegas. Mafia Wars 2 was released in October 2011.
Ad blocker interference detected!
Wikia is a free-to-use site that makes money from advertising. We have a modified experience for viewers using ad blockers

Wikia is not accessible if you've made further modifications. Remove the custom ad blocker rule(s) and the page will load as expected.