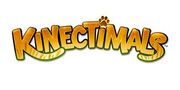 "Kinectimals" invites children, their parents and animal lovers of all ages to build lasting friendships with some of the world's most exotic creatures. Just like real pets, your "Kinectimals" will come running when they hear your voice, respond to commands such as "jump," "roll over" and "play dead," and purr with joy when you scratch them behind their ears.
Kinectimals Mobile Edition
Edit
Kinectimals Mobile Edition is a version of Kinectimals on the go.You are able to use a Kinect like feature to play the game.
Kinectimals-Now With Bears!
Edit
This updated version of Kinectimals now features cuddly bear creatures in addition to the rest of the Kinectimals stable for even more fun!
Ad blocker interference detected!
Wikia is a free-to-use site that makes money from advertising. We have a modified experience for viewers using ad blockers

Wikia is not accessible if you've made further modifications. Remove the custom ad blocker rule(s) and the page will load as expected.