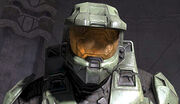 Halo is a multi-million dollar science fiction video game franchise created by Bungie and now managed by 343 Industries and owned by Microsoft Studios. The series centers on an interstellar war between humanity and a theocratic alliance of aliens known as the Covenant. The Covenant worship an ancient civilization known as the Forerunners, who perished in combat with the parasitic Flood. Many of the games center on the experiences of Master Chief John-117, a cybernetically-enhanced human super-soldier, and his artificial intelligence (AI) companion, Cortana. The term "Halo" refers to Halo megastructures: large, habitable ringed structures, similar to the Orbitals in Iain M Banks' Culture novels, or author Larry Niven's Ringworld.
Ad blocker interference detected!
Wikia is a free-to-use site that makes money from advertising. We have a modified experience for viewers using ad blockers

Wikia is not accessible if you've made further modifications. Remove the custom ad blocker rule(s) and the page will load as expected.