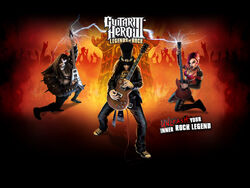 Guitar Hero is a rock and roll game for Jr. Rockstars to help them train for a concert at different places for different songs. You also get paid money to buy new gutairs, characters, songs, and more! If you rock the meter turns green. But if you stink, the meter turns red. Once the red is blinking black your song ends. Try to hit the right notes for as long as possible to complete the songs.The whole series was killed by Activision in 2011.
Guitar Hero
Guitar Hero II
Guitar Hero III Legends of Rock
Guitar Hero on Tour
Gutair Hero World Tour
Guitar Hero IV
Guitar Hero Metallica
Guitar Hero V
Ad blocker interference detected!
Wikia is a free-to-use site that makes money from advertising. We have a modified experience for viewers using ad blockers

Wikia is not accessible if you've made further modifications. Remove the custom ad blocker rule(s) and the page will load as expected.