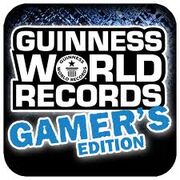 Guiness World Records:Gamer Edition is a collection of books made by Guiness World Records.They say records for game marathons,expense,sales and other gaming related records.The first book was in 2008. The 5th anniversery of it was in 2012 while the 2012 edition is supposed to be relased in early 2012.
Ad blocker interference detected!
Wikia is a free-to-use site that makes money from advertising. We have a modified experience for viewers using ad blockers

Wikia is not accessible if you've made further modifications. Remove the custom ad blocker rule(s) and the page will load as expected.