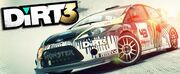 Dirt 3 is the latest installment in Codemasters' long-running Colin McRae Rally franchise. The game returns to the series' rally roots with dynamic weather, a career focusing on team-based racing, as well as introducing the freestyle event: Gymkhana.
The single player campaign, named DiRT Tour, takes place over 4 seasons. Within each season there are 4 championships with multiple events in different disciplines and challenges that test the players driving skills with races and various gymkhana events.
Returning modes from DiRT 2
Edit
Rally - Standard rally mode, which will carry the WRC branding this time.
Rallycross - DiRT's form of a standard race, usually on a closed-looped circuit.
Trailblazer - Standard rally format with a twist. All cars are on the track at the same time and the player has no co-driver to help with the turns.
Raid - Off-track racing with large all-terrain vehicles.
The Season two X-Games will be held at LA Coliseum whereas the Winter X-Games at Aspen.
Ad blocker interference detected!
Wikia is a free-to-use site that makes money from advertising. We have a modified experience for viewers using ad blockers

Wikia is not accessible if you've made further modifications. Remove the custom ad blocker rule(s) and the page will load as expected.