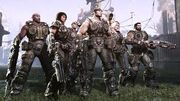 Throughout the Gears of War, Gears of War 2 and Gears of War 3 campaign, the game experience is centered around the members of a COG unit known as Delta squad. During the first act of the game, several characters rotate in and out of Delta squad. The squad's line is augmented throughout the game's chapters due to casualties, and the inclusion of the remnants of other squads.
Marcus Fenix
Augustus Cole
Damon Baird
Ayna Stroud
Clayton Carmine
Jace Stratton
Samantha Byrne
Deceased Members
Edit
Dominic Santiago
Michael Barrick
Minh Kim
Anthony Carmine
Benjamin Carmine
Tai Kaliso
Ad blocker interference detected!
Wikia is a free-to-use site that makes money from advertising. We have a modified experience for viewers using ad blockers

Wikia is not accessible if you've made further modifications. Remove the custom ad blocker rule(s) and the page will load as expected.