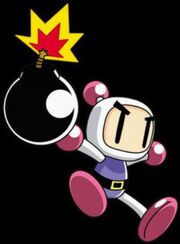 Bomberman is the main character and hero of the Bomberman series. While the main Bomber is white, other bombers are black, blue, red and green.
General Info
Edit
He is also known as "White Bomberman" or "White Bomber", and is the hero of the Bomberman series.In most of the games he is the main character who you can control in the story mode of most of the games. White Bomber is heroic, cheery, and occasionally foolish. He is the one who usually saves his home planet, Bomber Planet, from trouble. Like all other Bombermen, he has the ability to spawn bombs from his hands. In most of the series he doesn't have one true rival, but at one point the Black Bomber or "Kurobon", was his enemy. Later in the series Bomberman and Black Bomber become allies.
Ad blocker interference detected!
Wikia is a free-to-use site that makes money from advertising. We have a modified experience for viewers using ad blockers

Wikia is not accessible if you've made further modifications. Remove the custom ad blocker rule(s) and the page will load as expected.